Continuing Education and specilization
Are you interested in further training in the field of veterinary medicine? We have the suitable offer.
The Vetsuisse Faculty Berne offers a wide range of continuing education programmes, specialist training and research tracks.
In the clinical field, internships, the one- to two-year practical training courses are very popular as a basis for the following European or Swiss specialist training courses. In the research area, in addition to the classic doctoral programs (Dr.med.vet), PhD programs are also offered in collaboration with the Graduate Schools of the University of Bern.
An overview of what UniBE has to offer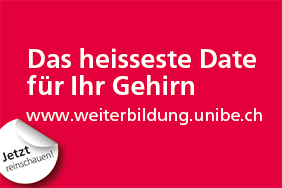 The University of Bern offers over 100 continuing education courses (MAS, DAS, CAS) from all disciplines. All courses are led by university lecturers. Continuing education at the University of Berne provides practice-oriented knowledge at the cutting edge of scientific research and is aimed at people with a university degree and professional experience.